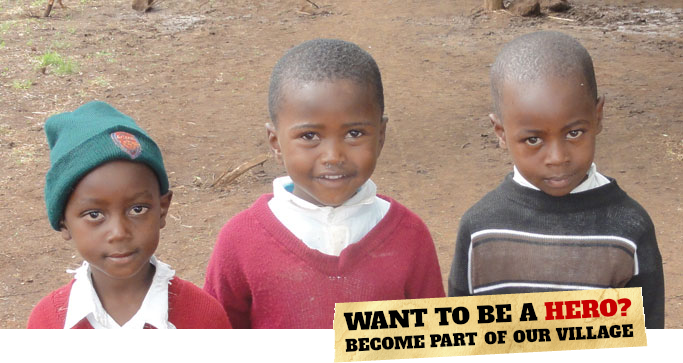 History
It all began with a working visit by founders Jos and Ben Wissink to the Kenyan branch of a Dutch company. The branch the brothers visited is near the city of Ruiru in the Thika district, not far from the capital city of Nairobi.
During their visit they were given a tour around the Githothua Primary School, which has about 700 pupils. They noticed that many of the children had been given no packed lunch by their parents. And they learned that many had also had no breakfast. School on an empty stomach! They immediately realised that they wanted to do something about the problem, but in a sustainable way. Back in the Netherlands their wishes turned out to be a perfect fit with entrepreneur Rene Wissink's search for a new and meaningful challenge, and the FoodVillage core team was born.
Combining their knowledge and experience they researched into options for improving the situation in Kenya. Some key concepts emerged: the project would have to be concrete, practical, educational and sustainable. There followed conversations with the head of the primary school and the chairman of the School Committee. The mayor of Ruiru and council officials also got involved.
Using their own finances, they then founded the Educational FoodVillage Project in November 2011. The first job was to create a well-motivated project team, both in the Netherlands and in Kenya. Next they went to the school and built a greenhouse, a kitchen and a garden. Read here what we have achieved since then, what we plan to do next, and how you can help!